Team Sirius Coaching with Leanna Carriere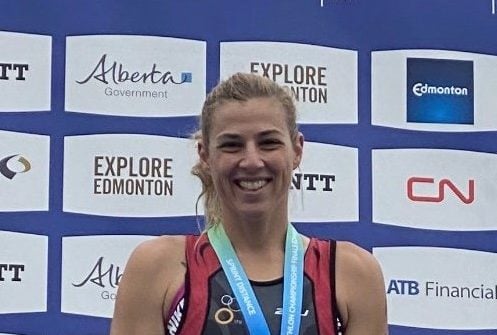 Leanna Carriere
Leanna Has over 15 years of experience personal training working with all levels of athletes in various sports and fit for life clients. Loves to inspire others to accomplish even more then they set out to. I have worked with Bek and Siri over the past 4 years, have fallen in love with endurance sports and where it takes both body and mind to grow. I have accomplished racing all distanced from try-tri to ironman's. I was an elite track and field athlete for Canada after just missing the 2016 Olympics and having my Daughter Adalynn decided to commit to triathlons. Coming back from pregnancy took consistency and patience. Whether you are new to sport, coming off injury, or even something like pregnancy I am hear to provide you with the right tools to be successful in achieving your goals.
Coaching Philosophy & Experience
I try to inspire, motivate and teach to provide my athletes with the tools they need to achieve there goals. Sharing the journey to accomplishing thier goals is something I am truly passionate about.
I have coached various ultra distance runners, marathoners, triathletes, strength and conditioning clients.
Personal trainer diploma with hounors
Canadian coaching certified : triathlon, track and field, gymnastics, tennis
Completed Siri's fearless authentic course
Trained one on one with Bek
Athletic Achievements
2018-current : been training very hard to set myself up for 2022 events
2020-2021-covid no races
2019 Age group worlds qualified for spirit, standard 70.3 distance triathlon
2016 4th Olympic trials Canada
2016 Women of Vision award
2015 First Canadian Female Decathleten (6th all time world ranking)
2014 Senior National Heptathlon Ranked 8th
2012 Olympic Trials Heptathlon Ranked 8th
2009 Canadian Pole Vault Championship Ranked 3rd
2009 Francophone Games Pole Vault Ranked 3rd
Athletic goals 2022:
This year I plan on racing:
Texas 70.3
Mt.Everest Marathon
Lake Placid Iroman
Penticton Iroman
Worlds standard distance and super sprint
Hire Leanna for custom coaching! Email us at teamsiriustriclub@gmail.com to find out more!