Team Sirius Europe Coaching with Yvonne Van Vlerken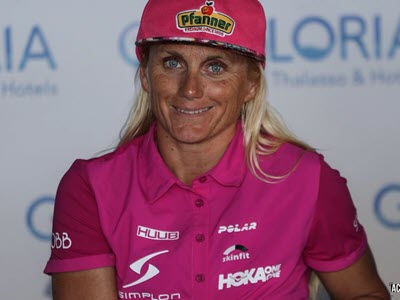 Yvonne Van Vlerken
Yvonne van Vlerken is the Head Coach for Team Sirius Europe after being a professional triathlete under Siri Lindley since 2012. Yvonne coaches and trains with the methods taught by the one and only coach, Siri Lindley. Yvonne started competing in Triathlon and Duathlon in 2000 and has been very successful in her career.
She started racing professionally in 2005, after great success between 2007-2011 but then lost her joy and passion for her beloved sport and had a year where she didn't perform on the highest level. At the point of stopping and getting back to her job as a sports instructor and sports massage therapist, Siri crossed her path and changed all of this.
Within one year she was back to her winning ways, loving the sport even more than ever and found the way back to being her shiny and happy, healthy self again. Her biggest successes would follow in the years to come with Siri always on her side.
Philosophy
Coaching and teaching is something that come's natural to our "Vonsy" (Yvonne's nickname given by Siri), with her background, which include several sports-related qualifications, sports massage therapist, being a athlete her whole life and her 19 years of experience in the world of Triathlon she has a great base to develop herself as a great coach.
Yvonne love's speaking different languages and is fluent in Dutch, German and English.
She has worked with both young and adult people and is eager to share her passion and knowledge with athletes that want to achieve their personal goals and help them on their path to make their dreams come true.
Yvonne is married to Pro Triathlete Per van Vlerken, who has been swimming, biking and running since he was 7 years old. He's also coached by Siri and is following his dream goal to win his first Ironman and improve on his 8.04 Personal best, to go under 8 hours in an iron distance race. Together they share the passion and lifestyle off Triathlon and combined it's 45 years of experience in this beautiful sport.
Yvonne will be coaching athletes in all distances of the sport from sprint to full Ironman races, duathlon, running a PB on your marathon, whatever it is that you want to accomplish, we can achieve this together!
Yvonne and Per are based in Europe ( Germany, Austria and the Netherlands) and will be Team Sirius Europe!
Triathlon Career
Yvonne began competing in triathlons in 2000 but soon found out that she couldn't swim well enough to be competitive so decided to work on her swim every single day while continuing to race Duathlons only. With great success she became Dutch, European and ITU WORLD CHAMPION multiple times in the time from 2000- 2006. Hard work does pay off and with Triathlon performances improving Yvonne worked her way up to the highest level in our sport with a breakthrough performance at the IM 70.3 World Championships in 2006.
Her first full iron distance race would follow in 2007 and with winning Challenge Roth in an almost World Record in her debut race, her path was clear.
Since then she has been racing successfully with more than 15 IM wins and taking the Challenge World ranking highest spot in 2017 and 2018.
For a full list of results visit: http://www.yvonnevanvlerken.eu/results.htm
Hire Yvonne for custom coaching! Email us at teamsiriustriclub@gmail.com to find out more!